Comparing gooseneck style flex arms, swing arms, and lever style arms: which is right for your medical device?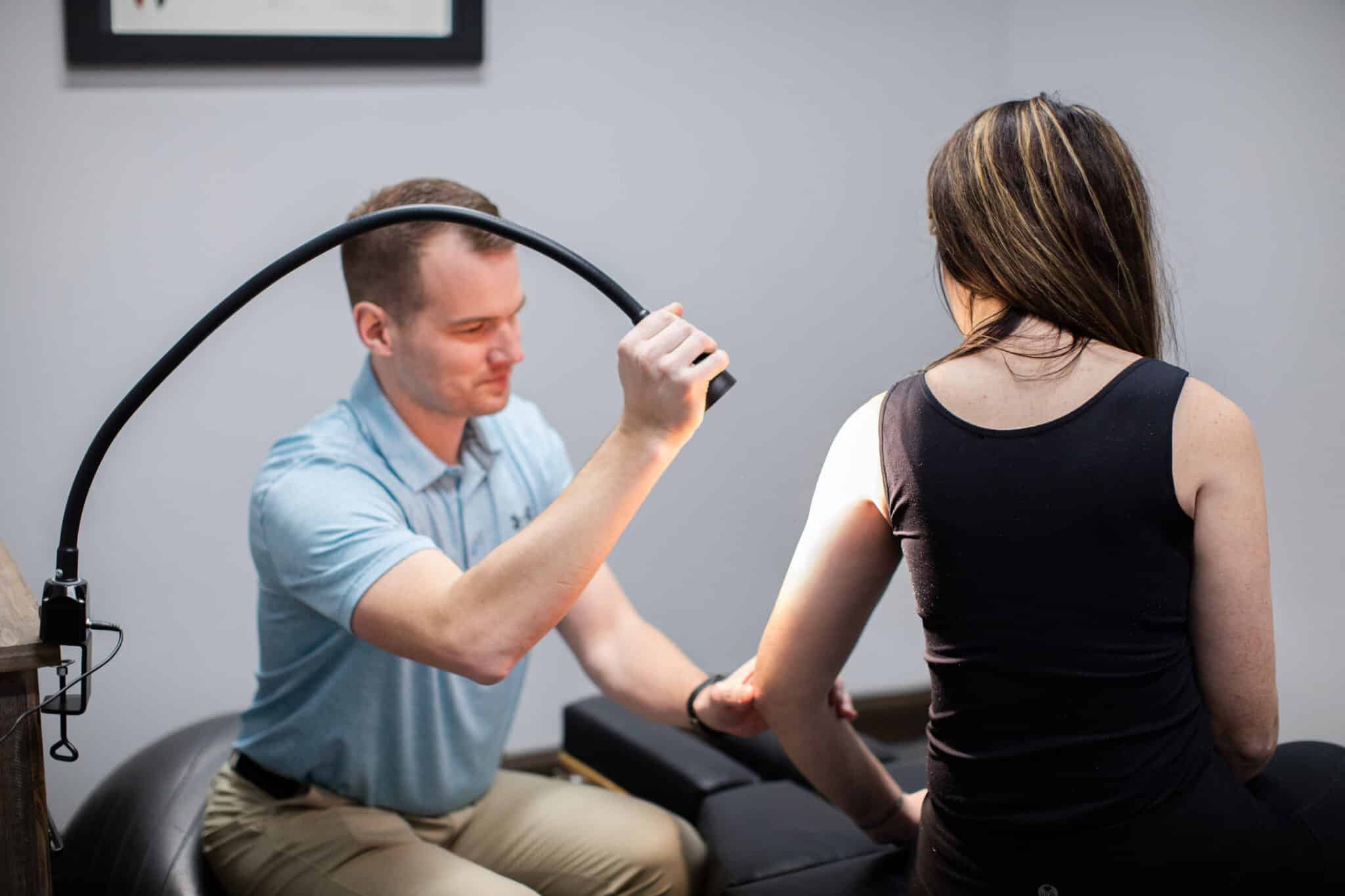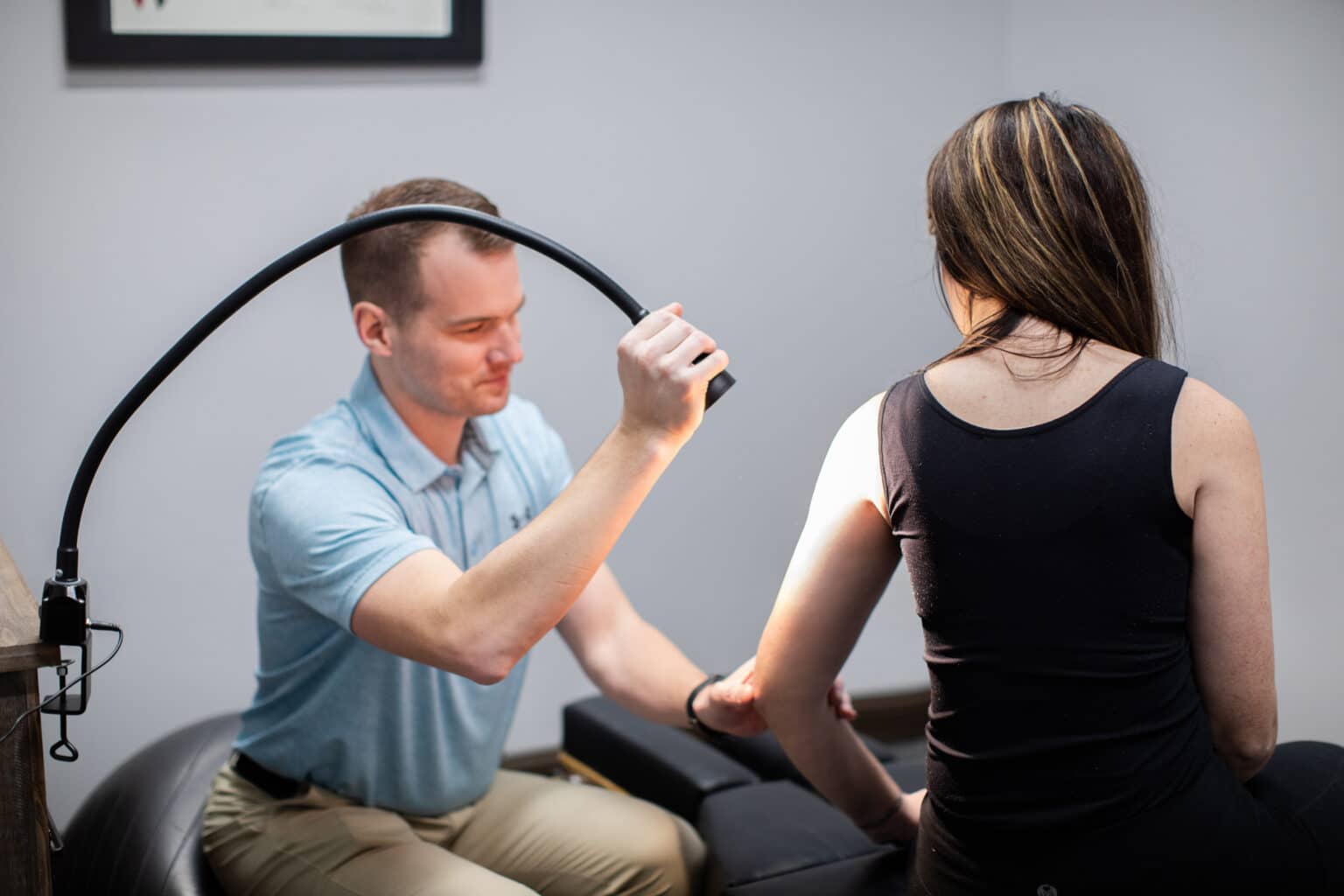 Flex arms are a great option for your medical device. They also aren't the only option. Swing arms, lever-style, fixed mounts, and articulated arms – there are a wide selection of arm options for your next medical device.
We exist to help you support your device with a simple and easy-to-use mounting solution that fits the environment and application that your end user will use it for. While it'd be easy to say that EVERY situation is right for a flex arm, it's not true. It's our goal to find a solution for what's best for YOUR device, not to make a sale no matter what.
We'll go into a more detailed look at these options in a second, but in case you need this info at a glance, here's a breakdown.
| | | | |
| --- | --- | --- | --- |
| | Flexible Gooseneck | Jointed/Articulating/Swing | Gas Spring Arms |
| Weight Load | 0-4 lbs Light | 0+ lbs Light-heavy | 0+ lbs Light-heavy |
| Positioning | Instant, infinite positioning | Limited to moving in direction of joints, may have to turn knobs | Position by moving device, limited to moving in direction of joints |
| Mounting locations | Floor, Wall, Bed, Pole, Cart | Ceiling, Wall, Cart, Pole | Ceiling, Wall |
| Cost | $ | $$ | $$$ |
Just because we're competitors doesn't mean we compete for your business
Look, many of our competitors are doing the same thing we are: helping people support their devices with mounting solutions. We aren't trying to be oppositional. That's exactly why we have a partnership philosophy. We've had many times where we buy some of our competitor's components and vice versa. We provide them with our solutions so that both companies can offer more capabilities and have better options for our clients. It's not about us winning, it's about everybody winning. That only happens when you get the best-engineered mounting solution for your device.
So what options are out there? We're glad you asked.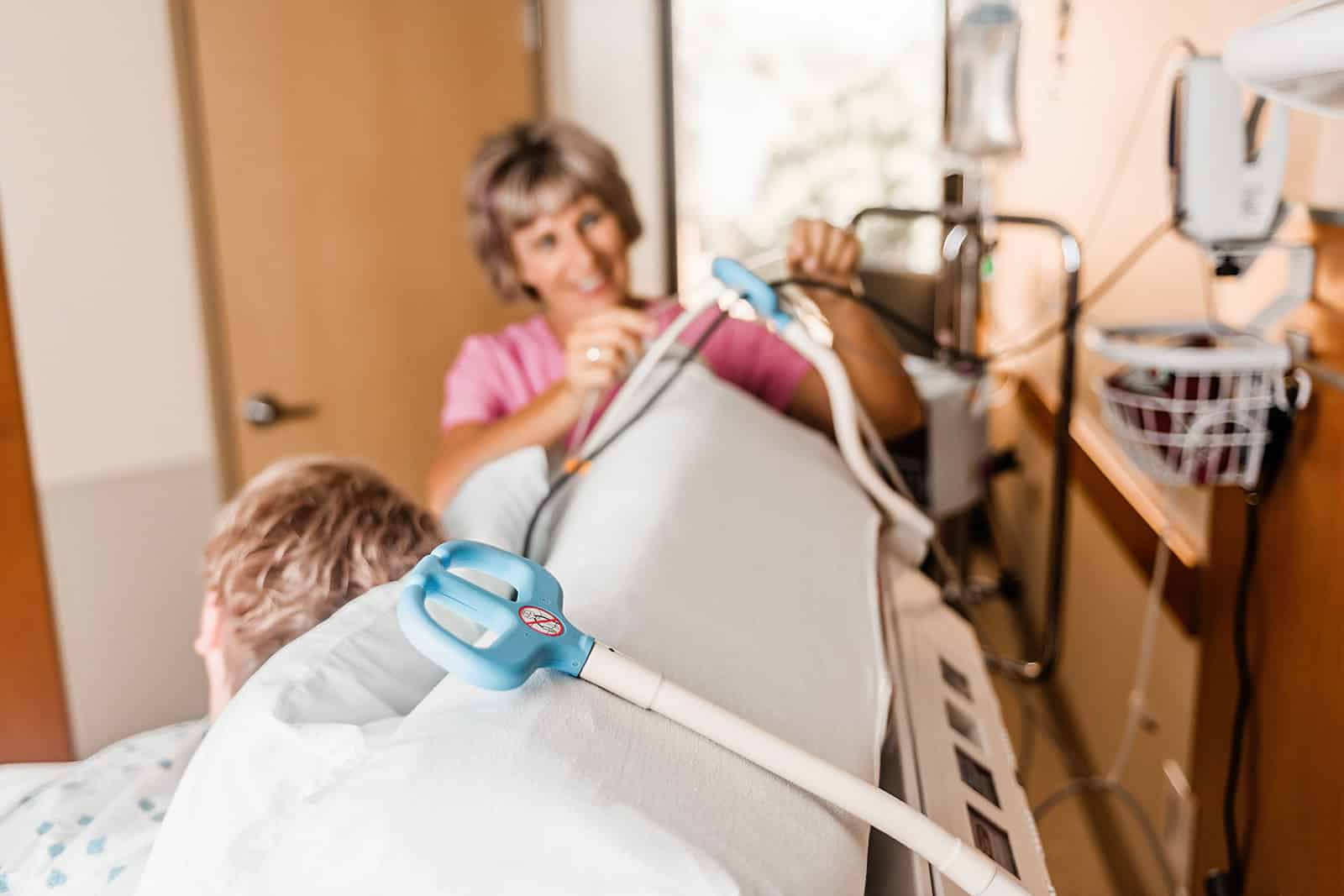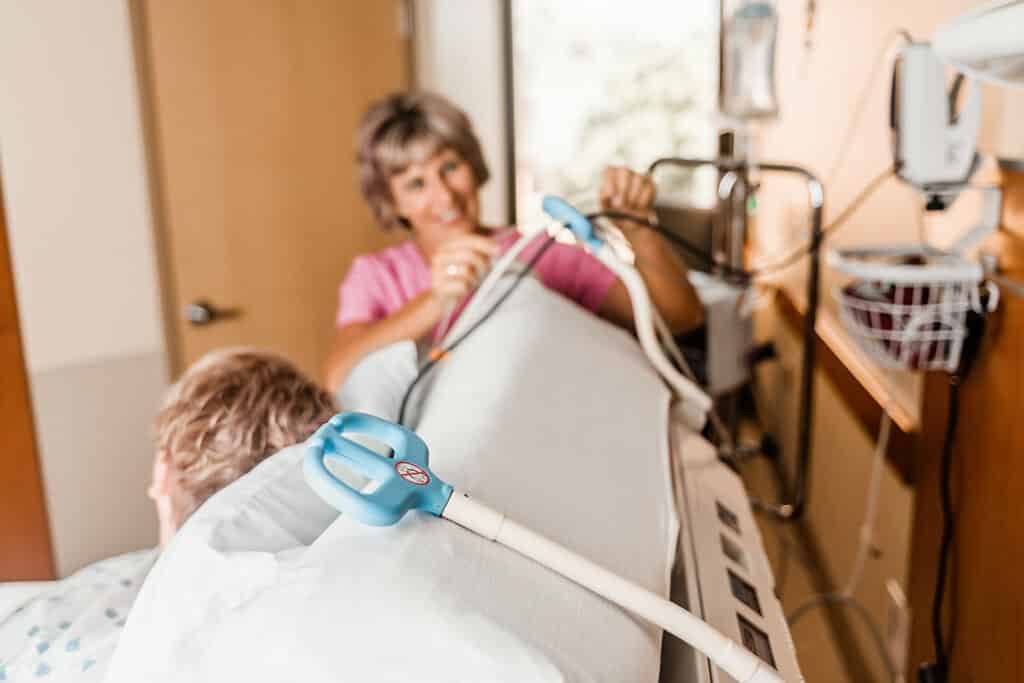 Mounting solutions for your device that are similar to goosenecks
This is the area where we're most confident you'll find a solution with Moffatt. Only a few true competitors are offering a similar product – and even fewer offer the range of finishes and options that Moffatt Products gives our customers. So what's the actual difference? In our opinion, it's consistent quality. We work to maintain our share of the high-end gooseneck and flex arm market by aiming for the absolute best, consistently delivered quality that we can. Whether that's the end fitting, color matching, or internal wiring, we work with our customers to create exactly what they need.
The benefits of a flex arm
Price comparison- Goosenecks are often more cost-effective for applications that are in the right weight range. It's a right-sized solution in terms of what it will hold and the motion it provides. If you have a lightweight device, mounting with a flex arm will help you avoid overpaying with more complex solutions.
Cabling: Often, wires can be passed internally, even terminated after passing through the arm. This makes it compatible with most medical devices, even those that need lightning connectors or other cutting-edge tech.
Mobilization- Flex arms are easy to add to rolling carts, stands, and patient tables. Our mounting solutions give you nearly limitless options for how that can occur. We currently offer direct mounts, swiveling mounts, magnet mounts, quick couplers, C-Clamps and other mounting methods.
What are the limitations of a flex arm?
Weight Limit: Flex arms can only carry a payload of about 4 lbs. More than that and performance will be adversely affected.
Cabling: In certain situations, inside diameters can get tight and make it difficult to pass cables inside an arm.
Risk of breaking: Being a spring, if users abuse the arm by bending it too aggressively it can permanently damage the spring. Field experience over the years shows this is still a low percentage risk, but it does happen.
Similar: Gas spring arms
Here's a simple explanation: A gas spring works sort of like a bicycle pump, only it's filled with pressurized nitrogen gas and oil. The gas helps the spring store energy, while the oil dampens the movement of the piston while providing lubrication. Like in a bicycle pump, there's a tight-fitting piston that is mounted on a rod that can slide back and forth inside a cylinder (Typically, this is made from heavy gauge steel, not light plastic as in a bicycle pump). That means that gas spring arms can typically handle the same weight requirements of a flex arm – and even exceed what a flex arm can do.
Unfortunately, there are some limitations to gas spring arms as well. Namely, that their positioned by moving the device itself, and they're limited to moving in the direction of the joints. There are limited mounting options for this reason. They also represent the most expensive option on this list.
Other mounting solutions for medical devices
The biggest obstacle for us to overcome is the weight limit that flex arms are limited to. As we've already said, really it's about a 4 lb weight limit in most situations. If your device requires your arm to support a heavier payload some of these options may work for your device. In most cases, we have recommendations that we can give to you about where to find these products, so please: don't be afraid to reach out.
Jointed/Swing/Articulated Arms
These types of arms rotate around one fixed point, and rely on the joints to provide additional ranges of motion. As opposed to a flexarm, which provides a more dynamic range of motion because the entire gooseneck is essentially a series of joints. These types of arms can be mounted to ceilings, walls, carts, or poles. They typically represent a middle ground between a flex arm and the more expensive gas spring arms.
They're viable options unless you need to make minute adjustments to where your device's payload will be held. They don't have the range of motion or type of motion that you'll get with a flex arm. That's not a knock on these types of arms, but it just means that you'll have to consider when designing your product.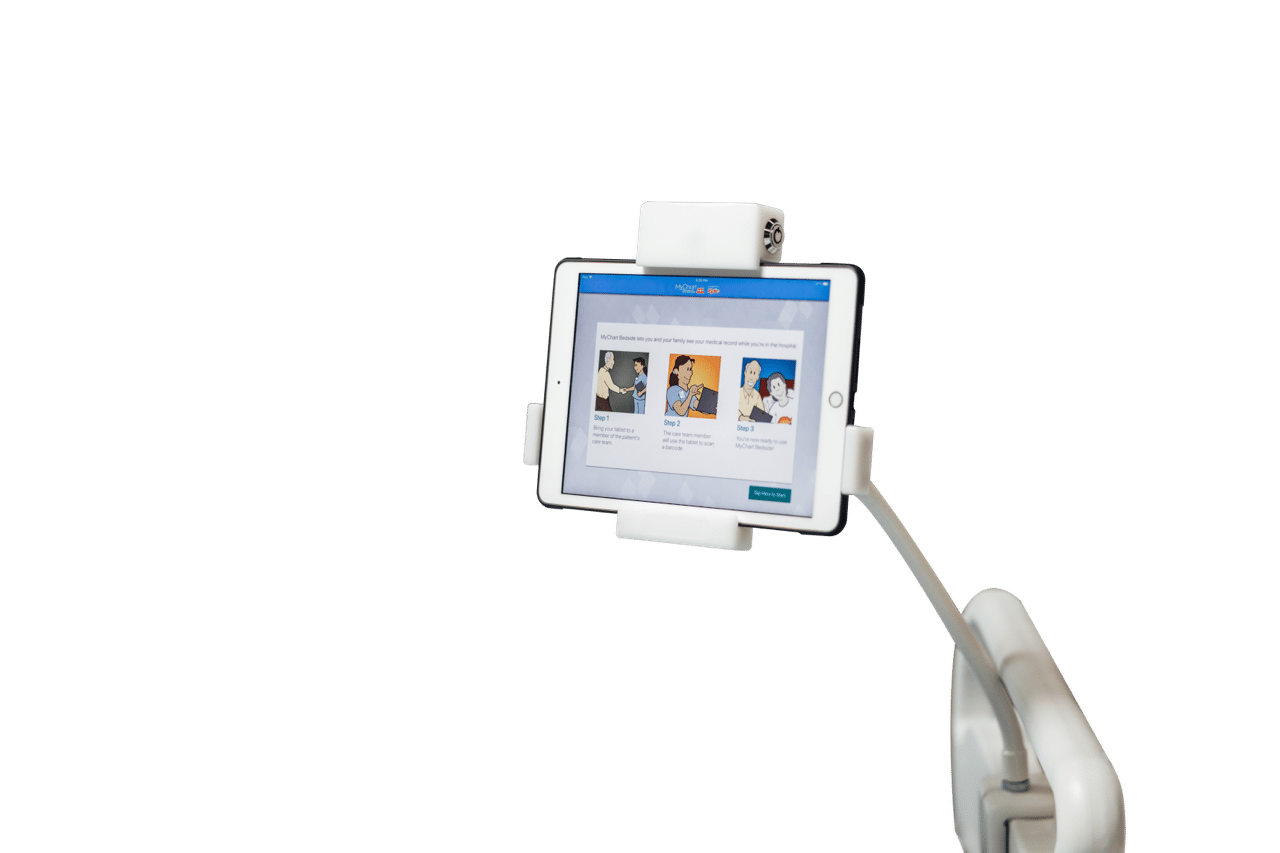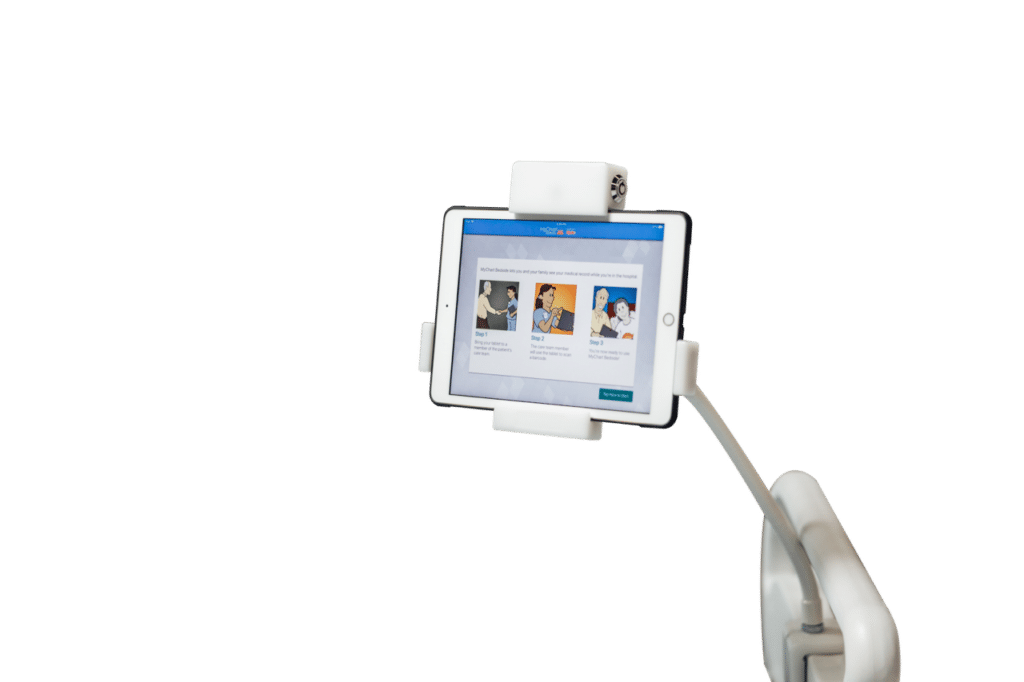 What to look at when choosing your mounting solution
Do your research. It's really easy to overspend and overdesign the solution when a simpler option will do. Instead of spending 5-10x the cost to hold that device, look at options that will do exactly what you need. Oftentimes a Gooseneck (flex arm) option is exactly what you need at a lower price point.
Do you have more questions about mounting options for your medical device? Please reach out!
We're a solutions oriented company. Instead of just selling you a product, it's our goal to make sure you get the right option that the job requires. If you have questions about any of these options (or want to know if a flex arm might be right for your next project) then please don't hesitate to reach out. We're excited to hear from you!