Moffatt Q&A: Flex Arm Prototyping and Development Timelines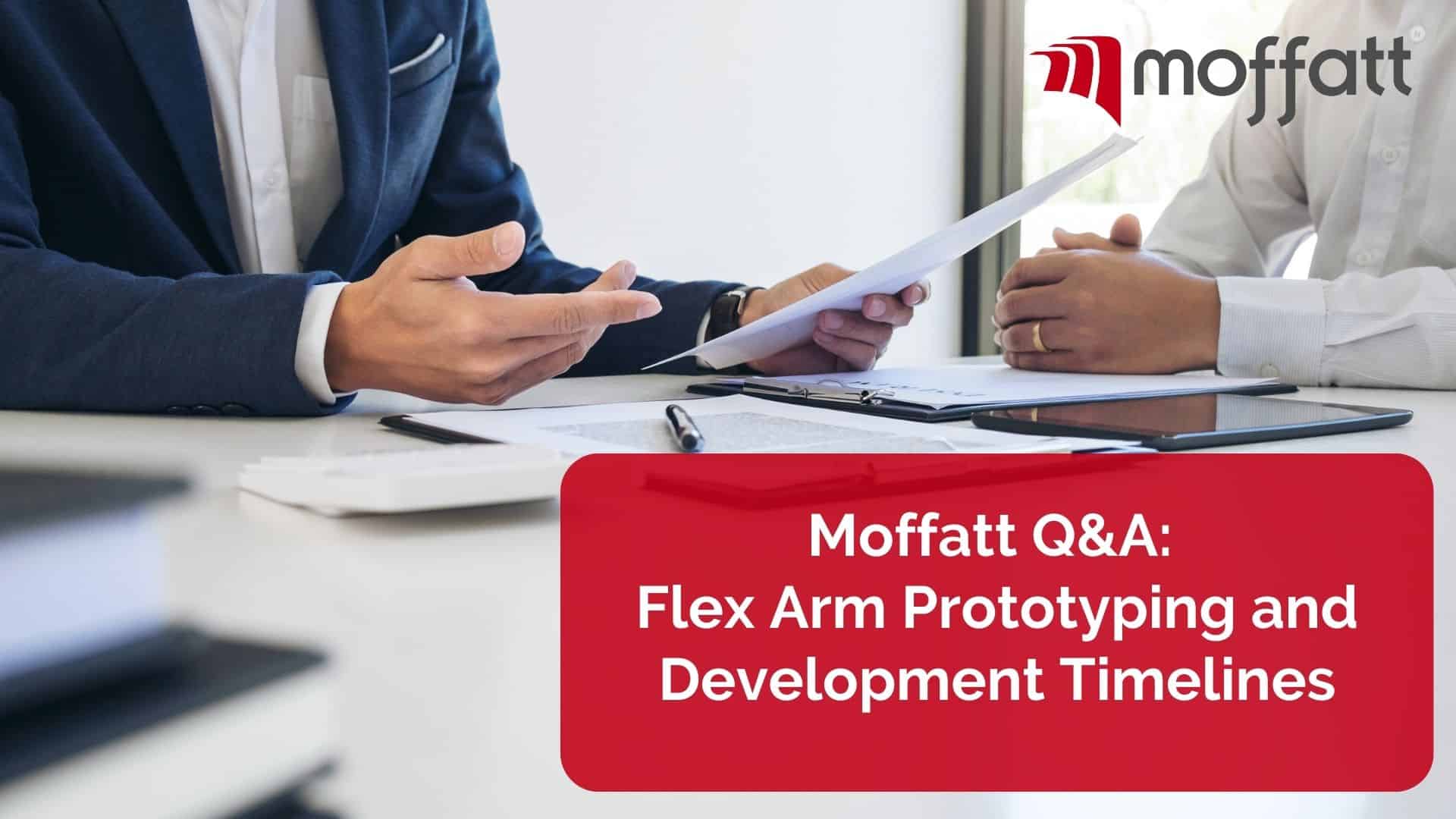 Development and production are two of the items we get asked most about. It's easy to understand why, when you're building a medical device you need to know that you'll be able to get what you need WHEN you need it. Here are ten questions we get asked all the time about prototyping and developing flex arm products.
How soon can we get started with prototyping?
The short answer? Immediately. The slightly longer answer: After your first call, we'll have a pretty good idea already of what your end product might look like, at least from a flex arm perspective. That means knowing if we'll need just a single flex arm, multiple sections, and the sorts of coverings or endfittings you might need. If we already have what we need in shop, we can start building components to ship to you immediately. All in all, it might be just a few days before you get your hands on a flex arm.
Will I have to "wait in line?"
Again, no. We don't pick between design calls because we don't have to. We're ready and available, and the nature of our products means that there's almost no limit to the capacity we can handle for your orders. That's the same for smaller projects too, we give everyone we work with the same amount of respect. You won't wait in line before "more important" products. That's a Moffatt guarantee.
How set in stone are these timelines?
As far as a prototype, your dealing with days, not weeks, so this doesn't really apply. We will say that people are often surprised when they get examples in a week or less. If we're talking about production, well, so much of the supply chain was disrupted in 2020, but for the most part that has completely returned to normal. Our timelines are pretty standard, and yes, set in stone.
Is there a way to rush this project?
We get the idea behind the question, but let us be frank: typically there's no reason to rush a project. We'll deliver your samples quickly (within a week or two), and it's usually our customers who have the timeline. It's our pleasure to work within that time frame to make their devices happen.
That said, there is one scenario where we may have to rush a project: if you're getting ready for a specific event like a tradeshow or potential investor/customer meeting. In those cases, we may have to substitute hard-to-find components, depending on how quickly you need them. They may not match the exact fitting, thread, or finish, but they'lll still show everything that a flex arm can do for your customer.
What might potentially hold us back?
We already made mention of the fact that the supply chain isn't really an issue. In fact, the only real challenge is when we're designing an entirely brand new component. We always exercise great time and care with these parts, because you don't want a brand new component failing or falling apart when it gets to production. That's why testing is so important.
The other thing: YOUR design might change. The difference between where a product starts and where it ends up can be vast. We may have to adjust and create more versions of a flex arm as your product changes. Rest assured, these changes will be timely and efficient.
Will internal wiring make this take longer?
While we have a ton of experience with a variety of connectors and wires, every application is unique. If we haven't worked with your particular device or project, it may take a little while to figure that out. We recognize from most of our customers that they would prefer to run wires inside the arm, and we will do everything possible to make sure that happens. That said, anything brand new takes time.
Can you rapid prototype? What does that mean for us?
For us, rapid prototyping is pretty simple, it means that you'll get a product in your hands in a week or two. It may not include all the final components of the design that will go into production, but it will help your engineers and product designers to better understand how a flex arm can integrate into your device. We believe that the best way to experience a flex arm is first hand, that's why we are so dedicated to getting you a prototype as soon as possible.
Is there a limit to the amount of flex arms I can receive on that timeline?
The real answer: nope. That said, we recommend you go through our normal prototyping process. There's no reason to receive a hundred flex arms right away. We want you to have enough that you understand our project, can generate some ideas, and just be able to play around with the flex arm first hand. Once we've ironed everything out with the initial prototypes, THEN we can kick it into high gear.
If I have a specific date that I need a product by what happens??
We mentioned this a bit earlier, but it's rare that something comes to us with a really tight deadline. If you have a trade show or need solutions by a specific time for a big customer meeting, rest assured we will give you a representative component that will work with your design. We are great at proof of concept in a hurry. Occasionally if someone needs something new and we don't have a production-ready solution for it, we may have to create a timetable to develop that product.
Anything else you want us to know?
We're constantly developing new components and tech for our flex arms. While our timelines are almost always client-driven, we have confidence that we can meet your deadlines with a product that is more than ready to perform. That's the benefit of working with a tightly integrated team who does this every day. While you can't schedule creativity, you can help foster it. That's what we're trying to do here at Moffatt. Communication flows freely and developments can happen fast. We pride ourselves on our responsiveness, matching your expectations, and ultimately treating your project with the respect it deserves.