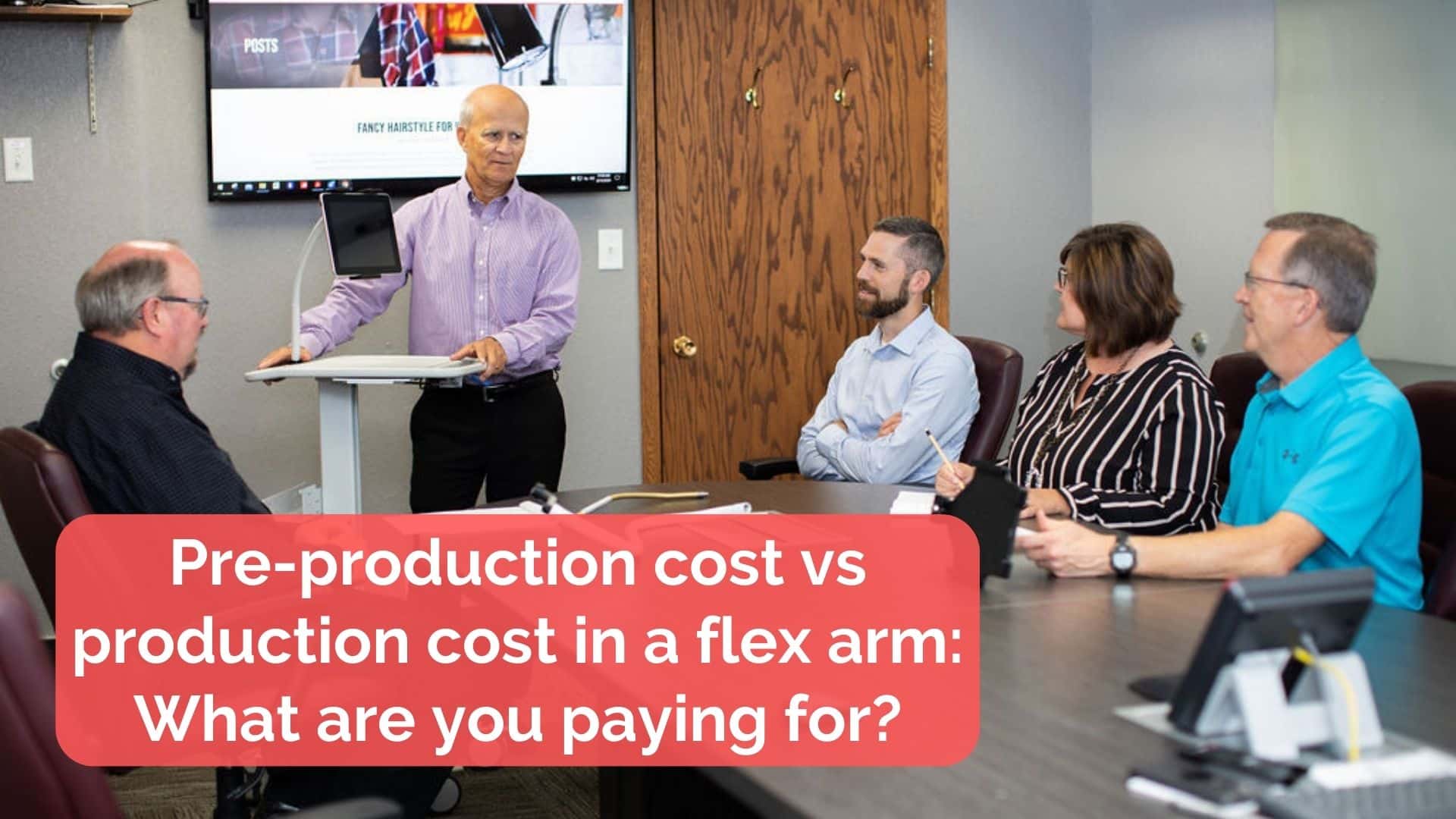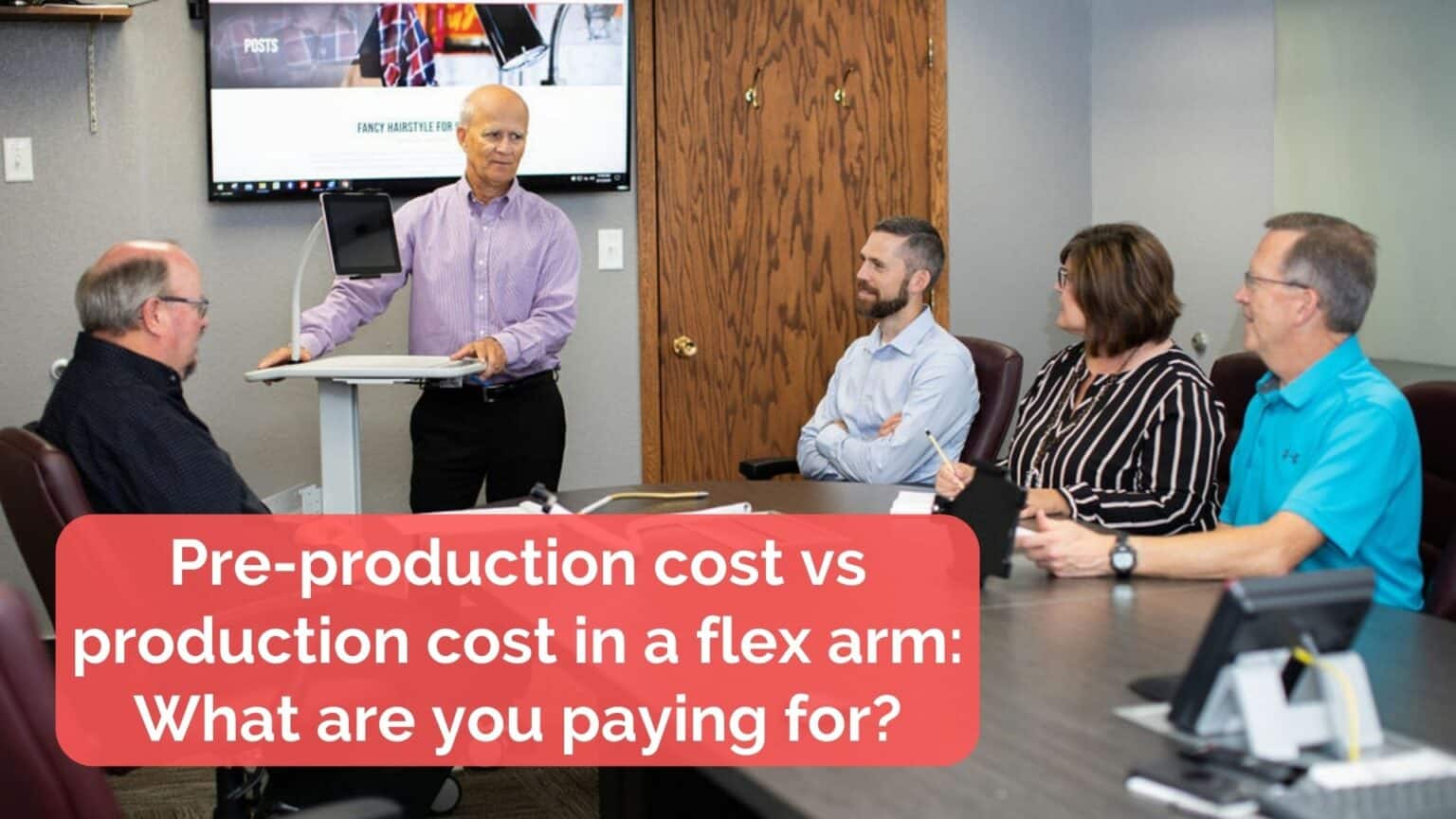 Creating new medical devices sounds expensive and daunting. To understand the costs you might incur let's break them into two buckets – preproduction and production. Every OEM and medical device component manufacturer follows their own process. We thought we'd take a moment to break down production and pre-production costs for our flex arms.
We do not currently charge a fee for the engineering or development of flex arms
Many customers want to know what our pre-production costs are, expecting that we will charge them for engineering or development – we don't. Not currently, anyway. If a customer wants to know our pre-production vs production costs, we'll ultimately break it down as follows.
Our first discovery call is an important time when we will learn the scope and needs of your project. That will allow us to give an initial quote about your whole order. You won't be charged for any pre-production costs until the development of a prototype, which is typically a few hundred dollars. Next we quote quantity-based prices, and after we've agreed on the design, we will move ahead with production parts. You'll ultimately be charged upon receipt of the first order.
We talk with customers about pricing:
During our first discovery call
During the development of a prototype (typically a few hundred dollars for the prototype itself)
Quoting production quantities
Receipt of the first purchase order
What DO we charge for in pre production?
As we mentioned, the only thing which generates an invoice during pre production is prototyping. Beyond that, you won't pay a bill until your first purchase order. Can there be multiple rounds of prototyping? Yeah, absolutely – and many of our customers are used to this. Sure, it's easiest when it works right off the bat, but having some iterations can be the difference between a product that works and one that doesn't.
Other costs include expediting, rapid and/or low volume CNC machining, tooling, and additional upstream supplier charges can all increase costs. Do we ever share in that cost? If we create a part to solve a new problem we might offer to divide or cover all tooling costs to use that design in future applications, for example.
One common mistake is to rush the design in order to meet a product launch date. We'll admit we enjoy the challenge and achievement of expediting to help a customer as much as anyone! But we've had our share of bad experiences as well. Many customers get excited when they receive fully functional prototypes and want to give full approval and place a large first order. But we recommend starting with 5, 10, or 25 pieces and planning to test in controlled settings to failure. Let's validate the design assumptions both of us made before we both spend bigger dollars ramping up. We'd much rather re-design and face some delays than face expensive returns, rework, or expedited re-designs once products are fully launched. Those costs can be extreme for everyone.
How we estimate your production cost of a flex arm device
The first way we estimate is simple: we do this a lot. We've got the experience and history to know, in general, what the costs you'll incur during production if we know what you need. That's why we created the design checklist. With that in hand during our first meeting, we'll know if we need to design from a family of common parts – or if you'll need something special.
So what do we cover? Basic design elements like the weight of your device, the total reach and range of motion, and frequency of adjustment. Details like who are all the potential users, what differentiates your product in the market, ramp-up schedules, important upcoming dates, and yes, we might ask about your life outside of work. With an accurate picture of what you need and why, our team will be able to give you an accurate quote. How do we know? Again: we do this a lot. The main reason to work with us is to pull from decades of flex arm experience. This isn't a business where you'll place an order and never hear from us again. We want to be an extension of your design team.
More questions? Just ask. We love this stuff.
We're happy to talk about our process with you. No, really – it's one of the things we like the most about this job. If you have any questions about prototyping, rapid prototyping, pre-production or production of flex arms, please reach out. We can't wait to hear from you.